Welcome to Juke That!
Hi and welcome to Juke That, your Party Jukebox. Juke That is different. Your guests will notice that, when they wish a song, or when you create your own Karaoke songs and sing to them.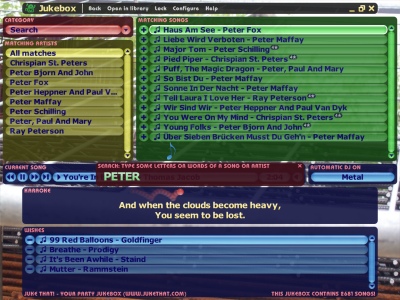 Not another MP3 player...
Oh no, Juke That is no player like WinAmp or the Media Player. Juke That is a Jukebox. Your guests are encouraged to wish songs by themselves, unable to damage anything. If you like, even protected by a password.
And when nobody places any wish, the Automatic DJ jumps in. He takes care that the music matches the last wishes played. And he favors popular songs, songs with many wishes in the past.
But that's not nearly all. Take the stickers you can download here, and you can make your own guest and DJ keyboards. Install a mini PC with this keyboards, and watch your party guests queue in front.
Download
You can download Juke That for free, and if you like, you can download the stickers for your DJ and guests keyboards there, too.
Twitter
Twitter enables you to connect with your friends, so you always know what they currently do.
Juke That's on Twitter, too. If you follow Juke That, you can always be up-to-date.
juke that,juke,that,jukebox,mp3,music,party,karaoke,jukebox,player,share,synchronize,shareware,software,thomas,jacob,thomas jacob