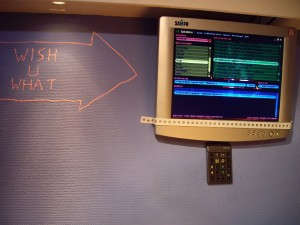 In this tutorial, we build our own Jukebox for a rumpus room or bar. You will agree, a fine and ease-to-use music box is nice for a good party.
And once again, what I now show you was driven by what I needed myself. A Jukebox my guests can handle easily and with fun, and a music shuffle that plays good songs with no need to care about.
So I put a PC into my rumpus room, installed a flat screen and a special keyboard that's very easy to use. And this is how it looks like.
If you'd like to have such a Jukebox as well, you need the following:
A mini PC
First of all, you need a PC. A mini PC is best, for example a shuttle xpc. You can put these small boxes on your stereo or install them below your bar, they are silent, cheap, energy saving and they are more than well-equipped to run the Jukebox on.
I bought this shuttle:
Shuttle X27D with Intel® 945GC
1GB RAM (Kingston PC667)
80 GB HDD (Seagate ST980811AS SATA)
DVD drive (SONY NEC AD7590S Slim Black SATA)
Plus Windows 10, but any other Windows works well, too.
On the shuttle web site, you can configure your own shuttle system.
The Jukebox with the special keyboards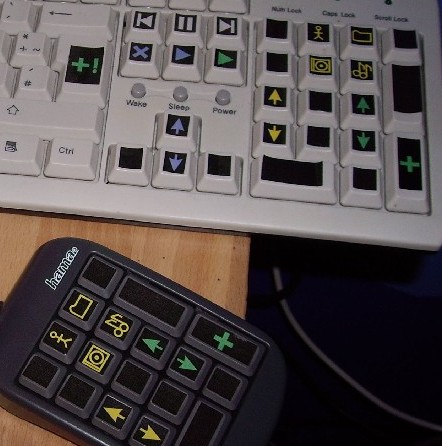 And then you install Juke That of course, and your party can start, that's all you need.
But then, I wanted my guests to use the Jukebox even more easily than with the mouse and regular keyboard. And if you want that, too, you buy a regular numpad (numeric keypad), get the stickers from the download page, and print them on self-adhesive printer paper.
And as the DJ, I wanted to control the Jukebox with a keyboard only, too, but I liked to do more than my guests, e.g. delete wishes or play songs that have recently been played. And of course pause the music etc. There are stickers for these functions, too, and you put them on a regular, full keyboard.
When that's done, it looks like this photo.
A screen and a stereo
Then of course, you need a screen and a stereo you connect to your mini PC.
You can see the controls keyboard on the photo at the top. At parties, people always queue in front of it, no joke!
Have fun building your own Jukebox!