With Juke That, you can keep multiple libraries synchronized. You can copy music, you imported and edited on one computer, to another one. That's a very powerful feature, because Juke That looks what songs are new on the other computer, new since the last time you synchronized with that computer.
Attention! Please use this function only to copy music where it is legal, if you own the music and are allowed to copy it. The authors of Juke That do not tolerate illegal acts in any way. Respect the rights of others. If you are not sure, contact an attorney please. By using Juke That, you agree to this. Thank you.
Connect
First, you have to connect to a library that offers its music. To do so, you press the menu item "Get Music" and then the "Connect" button. You can see Juke Thats in your network, and you choose one of them. Alternatively, you can enter the name or IP address of the computer you want to connect to.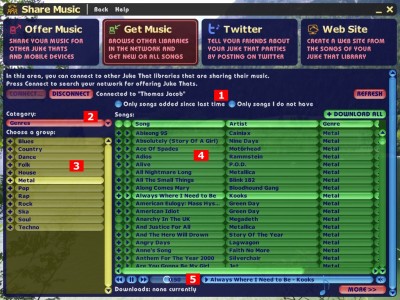 Choose and download music
Now you select 1, if you want to see all the songs of the library, or only the new songs since the last time. You can also choose if you want to see music you don't have only.
Then you choose the category 2, this is the way to get the music of the other library sorted, e.g. all songs by name, or the artists, albums, or genres.
In the groups list 3, you can download a whole group, by pressing the plus button next to it. Or you press a group, and the songs list 4 shows its songs, where you can then download the songs individually.
But you can also preview songs. Press the play button to do so. In the player 5, you can forward and rewind the song, and adjust the volume. To download the song, press the plus button in the songs list.
The download list 6 shows the songs you have selected for download, but aren't downloaded yet. If you have a fast network, this list is quickly empty again. Above the list, you can see how many songs you downloaded already.